This has been an extraordinary week in the life and ministry of the Missouri Conference.   We've explored and experimented with two new large initiatives, and both are bearing fruit beyond what we could have imagined.
Through Serve 2011 we invited congregations and United Methodists across Missouri to offer themselves in service to the people of their communities for one special weekend.  Thousands of people young and old put on their gloves or tied on their aprons and loaded their ladders and picked up their paintbrushes to head out into their neighborhoods for projects that ranged from renovating houses, cleaning public parks, restocking food pantries, serving the homeless, teaching children, painting classrooms, visiting the homebound, writing notes to newcomers, and performing hundreds of other forms of personal and community service.  More than 260 churches formally registered through the Office of Creative Ministries, but many more collaborated with other congregations in their areas in ways that has made it difficult to track.  Max Marble, Director of Mission, Service, and Justice Ministries, estimates that more than 400 congregations participated during this past weekend, and many others participated on other weekends of their choosing last spring. Audrey Phelps, Director of Volunteers in Mission, has received more detailed reports from a sampling of 34 churches who participated, and in those few churches alone more than 2600 United Methodists volunteered, and they were joined by 400 other non-member volunteers.  Very cool.
I spent my Serve 2011 workday at Kingdom House in St. Louis working alongside members from Beloved Community United Methodist Church and The Gathering.   Esther and our sons worked on projects in Columbia.  As I've mingled with dozens of clergy and laity since last weekend, I've continually heard positive reflections on the weekend.   Serve 2011 represents only a small fraction of the many ministries our congregations offer in their communities throughout the year, and I give God thanks for the hard work and deep commitment of so many United Methodists who keep us outward-focused in our serving Christ.  Thank you to everyone who worked and prayed to make Serve 2011 successful for those we seek to serve as well as for those who offered themselves to serve.
And earlier this week, nearly 250 clergy from the Missouri Conference gathered for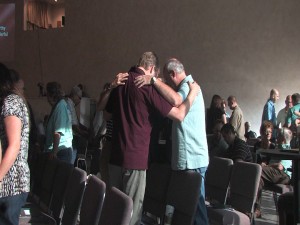 48 hours of worship, learning, play, community, and prayer at CONVERGE.   CONVERGE represents a new approach toward fostering a sense of common community and mission among our pastors.   Hosted by First UMC, Sedalia, and involving a series of excellent speakers, worship leaders, musicians, and workshop leaders, the gathering offered time apart for pastors to cultivate their connection to God, remember their call, and rededicate themselves to their mission.   The Spirit was alive, the energy was high, the singing was joyous, and the laughter was delightful!  Our special thanks to Jim Downing for his excellent leadership, to First UMC for their extraordinary hospitality, and to Karen Hayden for her coordination and planning through the Office of Pastoral Excellence.   CONVERGE gave pastors a time to breathe in the Spirit afresh and to renew their sense of community in Christ.
These two new ministries, Serve 2011, and CONVERGE, were planned separately, and the dates were arrived at by their varying leaders to maximize participation.  When we realized that both were happening during the same week, we pondered whether to change the schedule.  As it has turned out, I think the two events have complemented each other very well.
Jesus ministry is marked by periods of active engagement followed by time apart for prayer.   His teachings are full of action words:  "Go….Teach….Heal…Baptize…Take up….Arise…..Give…Tell…Serve…"  But his practice of ministry also include rich times of personal prayer, extended rest, time away, dinner with friends, long walks, fishing days, stopovers at wells, and time in the Temple.  He sent out his disciples to serve and teach, and he called them together for common meals and community prayers.  He taught them to reach out to others in need, and also to reach up to God with humility.
Reaching out and reaching up.  How has Serve 2011 helped you reach out to your neighbor or CONVERGE helped you reach up to God this week?  How have you seen God at work in these ministries?
Yours in Christ,
rs