Giving helps us become what God wants us to be.  God uses our generosity to reconfigure our interior lives, to create us anew, and to foster in us "the mind that was in Christ Jesus."
Congr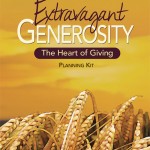 egations who seek to form people into followers of Christ have a responsibility to think deeply, prepare thoroughly, act wisely, and teach courageously about the relationship between faith and money.  How does our giving affect our relationship to God?  How does our relationship to God affect our giving?  How does being a follower of Jesus shape all our behaviors concerning money—how it is earned, spent, saved, and offered to God?
I'm pleased to introduce an excellent new stewardship program from Abingdon Press called Extravagant Generosity: A Matter of the Heart to guide congregations through planning and leading an annual campaign toward goal-oriented, mission-minded giving.
The creators of this innovative program are Michael Reeves and Jennifer Tyler.  Michael and I have worked together for nearly 20 years, and I drew upon his expertise ma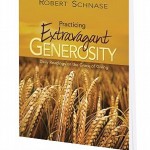 ny times when I was a pastor.  Jennifer Tyler is founder of Tyler Associates, Inc., a professional fundraising and stewardship firm that works with congregations, conferences, and other faith-based organizations. Michael and Jennifer developed the program, tested it with congregations, and fine-tuned it based on the positive experience of countless pastors and laypersons.  I have compiled the companion 28-day congregational devotional entitled Practicing Extravagant Generosity.
Michael Reeves and Jennifer Tyler bring extraordinary insight, knowledge, and experience to the task of teaching and leading congregations as they address issues of faith and money.  They have directed hundreds of local church annual and capital campaigns and have taught countless workshops and classes for congregations, conferences, and seminaries.  The fruit of their ministry are lives changed by the practice of generosity and congregations flourishing in the ministry of Christ.
I'm grateful to God that Michael and Jennifer have created this excellent tool for congregations, Extravagant Generosity: The Heart of Giving. The step-by-step planning guide and support materials include an array of resources to help pastors and lay leadership prepare, pray, lead, and follow-through with a high-quality, theologically-grounded, effective approach to practicing generosity. The planning kit includes a CD-ROM filled with checklists, schedules, graphics, service and sermon ideas, and sample letters.  Extravagant Generosity: The Heart of Giving changes the culture of the congregation from fund-raising to generosity as a core value of discipleship.
As a pastor, I used a variety of formats and programs to direct the attention of the congregation to a period of prayerful preparation for offering our pledges and gifts.  For years I relied on the Consecration Sunday model.  Using such a program provided a necessary intentionality and discipline that resulted in a congregation that was more spiritually mature about money matters, more unified in purpose and mission, and more generous in their support of ministry.  Extravagant Generosity:  The Heart of Giving leaves behind many of the elements and events of previous stewardship programs that no longer work well with younger and newer members.  And it provides the very best outline and map for preparing for the campaign that I've seen.
I count it a privilege to work together with Michael and Jennifer, and I pray that Extravagant Generosity: The Heart of Giving blesses your congregation as we all seek to fulfill the mission God has given the church of making disciples of Jesus Christ for the transformation of the world.
Yours in Christ,
rs