Forty Days of Fruitful Living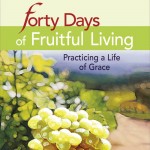 How do I cultivate a life that is purposeful, deep, and fruitful?  What are the commitments, critical risks, and personal practices that open me to God's grace? How can I discover the spiritual life and the difference God intends for me to make in the world?
Since the publication last year of Five Practices of Fruitful Living, which takes the discussion of Christian practice down to the level of personal discipleship, I've received significant positive feedback from many pastors and laypersons.  The book has been well-received and widely read.   I've also received many requests to reformat the material into a daily devotional for congregation-wide use.
I'm pleased to announce that Forty Days of Fruitful Living:  Practicing a Life of Grace is now available from Cokesbury and other bookstores.
Forty Days of Fruitful Living:  Practicing a Life of Grace provides readings taken from Five Practices of Fruitful Living presented as daily devotions with scripture readings, questions for reflection, and prayers for use by individuals, classes, Bible studies, and congregations.
Forty Days of Fruitful Living provides a unifying, renewing, outward-focused immersion into the life of grace.  Pastors and congregations looking for a Lenten theme for congregation-wide focus may wish to prepare for a five to six week sermon series based on Five Practices of Fruitful Living, using that as the primary resource for teaching in small groups.  A Leader Guide is available to help.  As the pastor preaches the weekly themes based on the personal practices and as classes study the book, the entire congregation can use Forty Days of Fruitful Living for daily readings so that every household prepares according to the same theme.  A number of congregations have already begun planning their Lenten emphasis and have found these resources helpful.   Cokesbury also provides licensing agreements for congregations who prefer to distribute the daily devotions electronically during Lent.  I wrote Forty Days of Fruitful Living with Lent in mind; however, the book provides the flexibility for using it during other times of the year for a forty-day congregation-wide focus on Christian discipleship.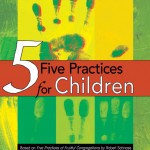 I'm also pleased to announce the release of Five Practices for Children by Rita B. Hayes which is based on the Five Practices of Fruitful Congregations.  Dr. Hayes, an ordained Deacon in the United Methodist Church, serves as Associate Pastor for Children and Family Ministries at Connell Memorial UMC in Goodlettsville, Tennessee, and has written a number of resources for leaders of children's ministries.   Five Practices for Children provides practical ideas for helping young children understand the five practices. The book includes lesson plans, suggestions for families, and stories about children who practice radical hospitality, passionate worship, intentional faith development, risk-taking mission and service, and extravagant generosity.   The book helps leaders and teachers for preschoolers, elementary children, and young teens.
The original book from 2007, Five Practices of Fruitful Congregations, continues to be a best-seller among pastors and laity looking to clarify their mission and enhance their ministries.   I pray that Forty Days of Fruitful Living and Five Practices for Children also help encourage people in their following of Christ and bless congregations in the great task of ministry in the spirit of Christ.
Yours in Christ,
rs